Warranty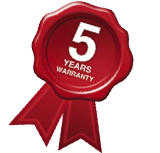 GENERAL TERMS AND CONDITIONS
Metro Doors guarantees you the best quality of thermoplastic MDF doors against premature yellowing, delamination, and also both hidden and visible defects that will make them unsuitable for their intended use. This warranty is valid for a period of five (5) years from the date of shipment. Repaired or replaced products are not subject to a new warranty period. The following constitutes the only warranty given by Metro Doors on its products and neither sellers nor their agents are authorized to modify, extend, or broaden this warranty in the name of Metro Doors
EXCLUSIONS | This warranty does not apply:
When damages are caused by

Misused, abused, burned, soiled, stained misshapen or otherwise damaged through negligence, accident or voluntary.
Poor maintenance and improper installation.
Products that have been handled, modified, repaired or otherwise altered in any way by any person other than Metro Doors or one of it's authorized representative.
Exposure to a temperature over 85 degrees C (185F) and/or installed near a heating system or appliance without adequate insulation.
Improper storage and intended use.

For outdoor installations.
The deterioration of the product resulting from normal wear and tear.
The cost of installation and transportation, or any other costs relative to the application of this warranty.
Either the loss of use of the products during the time required to apply this warranty or to any other damages and inconveniences, both indirect and incidental, resulting from the use of the products.
Warping of doors over 32" in height and/or in the event Metro Doors recommends the installation of a third hinge.
Does not cover Labour fees.
To benefit from the services of this warranty, return the original product(s) and proof of purchase must be presented to Metro Doors before the expiration date. Metro Doors will then choose, at their discretion, the appropriate course of action whether it be to replace, repair, or credit any products. If the identical materials or products are not available at the time the warranty services is requested, Metro Doors reserve the right to substitute them with materials and products of comparable quality, without being compelled to replace all of the products if only one or a few are defective.
SALES TERMS AND CONDITIONS
All prices are subject to applicable taxes.
Prices are FOB – Metro Doors – Mississauga, Ontario. Shipping options include: Courier: For small quantity shipments. Express delivery is available at a premium cost and is the sole responsibility of the customer. Metro Doors delivery: Please call to inquiry if we offer a delivery service in your area.
Freight charges may be handled on a "pre-paid and charge" or "collect" basis.
Please allow five (5) working days to complete the order. Working days are considered Monday to Friday and the first day of the five-day cycle is the first working day following the receipt of order.
No changes to the initial order will be accepted 24 hours after the order is placed excluding rush orders. After 24 hours, additions will be treated as new orders and subject to the five (5) working day delivery cycle.
If our production schedule permits, we will accommodate rush orders. However, rush orders may be subject to additional charges.
Replacement orders will be given top priority and every effort will be made to provide replacement orders within three working days upon receipt of request.
Upon receiving your order, we will issue you a quote within one (1) working day. Please check and confirm to ensure all information is correct and fax back to our office a signed copy. Please note only signed and confirmed orders will be processed.
Exact doors sizes, height and width, are accepted in both metric and imperial. Please note Metro Doors does not add or subtract from measurements provided.
Metro Doors quotes are valid for 30 days, and in the event changes are made, the original quote will be invalid and a new quote will be issued.
Thermoplastic MDF door prices are based on square footage and accessories are fixed prices. Doors or drawer fronts under one (1) square foot will be automatically rounded up to one (1). Any additional or custom design elements will be subject to additional charges.
Product specifications and material are subject to change without notice.
Credit policy: Customers who do not have open credit with Metro Doors are required to pay a 50% deposit and the balance is due prior to shipment or upon delivery. Approved accounts are subject to the following terms: 2% 10 days, Net 30 days. Metro Doors also accepts Visa and Mastercard.